Introduction
Google's Android dominates the market in sheer numbers while Apple's iOS fights in the premium market and is winning the profit margin game. And then there's Microsoft's Windows 10 Mobile, trying to find its place under the sun. We've handpicked the best phablets from each of these platforms to put them head to head, focusing on the devices rather than the platforms they represent.
There will be several rounds, each focusing on a certain specific aspect – the screen, the battery life, performance, audio and the camera.
The Apple iPhone has defined the must-have smartphone experience for years, even when Androids win on features. If anything, the iPhone 6s Plus is more like an Android than ever before with a focus on higher numbers (12MP camera with 2160p video) and some advanced UI tricks (3D Touch).
Apple iPhone 6s Plus
All-metal unibody
3D touch
Fingerprint reader
Bespoke chipset with great performance
Finely tuned 12MP/2160p camera with OIS

Expensive (especially if you want storage)
Smaller, lower resolution screen (5.5″ 1080p)
Thick bezels
No wireless charging
Mono audio recording in videos
No dual-SIM option
No RAW or manual shooting
The Microsoft Lumia 950 XL is the latest in the legendary PureView camera line with its hybrid sensor (4:3 and 16:9), ZEISS lens and full manual controls. Very much a Windows phone, the Lumia 950 XL promises access to Continuum for a desktop-like experience on a bigger screen and a unified app store.
Microsoft Lumia 950 XL
Continuum (desktop-like interface)
Iris scanner
20MP camera with ZEISS lens, tri-LED flash
Removable battery
microSD card slot
Excellent loudspeaker
Dual-SIM option

Limited app selection
No fingerprint reader
No mobile payment solution
Polycarbonate body doesn't feel premium
Battery life is not great (especially for dual-SIM)
The Samsung Galaxy Note5 is the latest device in one of the best-selling Android lineups, but many feel it was a step back from the power-user inclination the series was known for. You've heard it all before – sealed battery, no microSD slot, also this one took its sweet time coming to Europe.
Still, the Samsung-made screen and chipset are bleeding edge and as with all Galaxy flagships, the Note5 has more features per cubic centimeter than anything else out there.
Samsung Galaxy Note5
Metal and glass body
Fingerprint reader
Fast wireless charging
16MP camera with OIS
Heart rate and blood-oxygen sensors
Dual-SIM option

Not widely available in Europe for now
No TV out
Single-LED flash, protruding camera
S Pen slot design easy to damage
Display
AMOLED screens are enjoying quite a popularity in the high end, but Apple is still sticking to LCDs. And why not, it has some of the best in the business. The Cupertino company is conservative with size and resolution, though, trailing the competition a couple of years in that regard.
The Lumia flagship line stagnated for a long while, but Microsoft has finally caught up, in both hardware features and size. The Lumia 950 XL has a 5.7″AMOLED display with QHD resolution matching the Galaxy Note5.
The iPhone 6s Plus has a smaller, 5.5-inch display, and due to its lower resolution – 1080p – it is behind on sharpness – 401ppi vs. 518ppi. The straightforward RGB matrix handles lower densities better, though, and the practical difference isn't huge.
The display is very bright, reaching nearly 600nits and the contrast is high at 1380:1. The black levels aren't perfect, but they are certainly commendable for an LCD.
Still, if you want perfectly dark black pixels and amazing contrast you need an AMOLED display. The screens on both the Note5 and 950 XL are very bright compared to other phones, but the maximum power is not directly available to users.
The Samsung Galaxy Note5 lets you do as high as 440nits on manual, but if you leave it on Auto it can go up to 620nits in particularly bright environment. The Microsoft Lumia 950 XL is much more conservative on manual and goes up to 335nits. In Auto mode however, it tops the Note5 though, going over 700nits.
The Auto mode is designed to prolong the life of the OLED and will never run it at full blast for too long. This easily explains the cap in manual mode, but there's also the consideration of battery life – you don't need 600-700nits most of the time.
Display test
50% brightness
100% brightness
Black, cd/m2
White, cd/m2
Contrast ratio
Black, cd/m2
White, cd/m2
Contrast ratio
Apple iPhone 6s Plus
0.10
150
1563
0.43
590
1382
Samsung Galaxy Note5
0.00
183
∞
–
439
∞
Microsoft Lumia 950 XL
0.00
115
∞
0.00
335
∞
Samsung Galaxy Note5 (max auto)
–
–
–
–
620
–
Microsoft Lumia 950 XL (max auto)
–
–
–
0.00
705
∞
Sunlight legibility is a balance between the screen's brightness and the reflectivity of its glass. The Lumia 950 XL features the ClearBlack tech from the Nokia days – a polarization filter that is supposed to reduce reflections and glare.
Even with its lower max brightness output on manual (and we test on manual since Auto can be unpredictable), the Lumia scored almost as high as the Galaxy Note5. With both phones set to Auto brightness, you'll never have to squint at your display.
The Apple iPhone 6s Plus managed an excellent score too though it had to lean on its higher brightness here. Typically OLEDs have an advantage on this test, but we've seen LCDs on iPhones go higher (3.838 for the iPhone 6).
Sunlight contrast ratio
AMOLED has come out as the leader of accurate colors, quite the turnaround from its usual reputation. The Samsung's Super AMOLED display is the current leader in color accuracy.
With an average deviation in color reproduction (deltaE) of 1.1 in Basic color mode, the Galaxy Note5 has perhaps the most accurate color output we've seen yet. Even the maximum deviation is very low at just 2.2. Note that this is with the Basic screen mode. The Photo mode produces a punchier image (we like it for its higher contrast), but increases the average deltaE to 4.8.
The Microsoft Lumia 950 XL isn't doing too shabby in this respect either. It's almost equally good as it has an average deviation (deltaE) of only 1.6 and a maximum deviation of 2.9. Keep in mind that anything under 3 is considered properly calibrated output so these two are stellar. The Color settings on the Lumia lets you tweak the color output to a subjectively punchier look as well.
Then there's the Apple iPhone 6s Plus, which has some room for improvement with an average deltaE of 4.1. It's better than the LG V10 we tested last week and the AMOLED-packing Nexus 6P did even worse, so it's certainly among the better performers out there, but it's color output is not calibration grade.
| | | | |
| --- | --- | --- | --- |
| | Apple iPhone 6s Plus | Microsoft Lumia 950 XL | Samsung Galaxy Note5 |
| Average deltaE | 4.1 | 1.6 | 1.1 |
| Maximum deltaE | 7.4 | 2.9 | 2.2 |
Both the Lumia 950 XL and Galaxy Note5 are protected by Gorilla Glass 4 while Apple dropped the Corning product for Ion-strengthened glass. It should be more resistant to scratches, but more prone to shattering.
The Big New Thing with the 6s generation is 3D Touch. It extends the usual touch detection with pressure sensitivity, allowing iOS to distinguish between light and strong presses. This feature si used for executing gestures in the UI (called Force Touch), which reveal contextual options from app shortcuts or calendar appointments or can be used for precise cursor adjustment or for previewing links in various apps. We find the usability and general usefulness of 3D Touch is questionable and feels more like a beta feature at this stage.
The Samsung Galaxy Note5 has pressure sensitivity too, but that only works with the S Pen stylus. The pressure sensitivity works amazingly for sketching drawings or handwriting on the screen. Even content preview effects similar to the iPhone's are possible by hovering the stylus. The technology is mature enough and it's been regarded as an industry standard.
The Microsoft Lumia 950 XL doesn't do anything tricky with its display or its touch layer.
Winner: Samsung Galaxy Note5. A very bright display with perfect color calibration. The manual mode gives you a wide range of brightness, but Auto extends that further. The second digitizer adds advanced functionality.
Runner-up: Microsoft Lumia 950 XL. Excellent color calibration matched with a very high Auto brightness. The manual mode is more conservative than the Note5's, but even then, the sunlight legibility is great.
Third place: Apple iPhone 6s Plus. Very bright display, but with no "turbo boost" from Auto mode like the other two. Color calibration can use more work. The 3D Touch feature still feels like a beta feature at this point in time.
Battery life
Vanity among smartphone makers leads to thinner handsets at the cost of battery life. Rarely have we see an 8-9mm phone or a maker that pulls off a miracle and creates a thin phone with a high capacity battery.
This generation of iPhone 6s Plus had its battery capacity shrunk even further from 2,915mAh to 2,750mAh – and that came without the benefit of thickness.
The Samsung Galaxy Note5, on the contrary, has got a modest bump in battery capacity and now goes up to 3,000mAh in total.
The Microsoft Lumia 950 XL has a 3,340mAh, but also has the thicker profile among the three.
The Apple iPhone 6s Plus may have the smallest battery, but it has arguably the best mobile chipset on the market (a bespoke chip by Apple's internal team). This way the Apple phablet is able to match the Galaxy Note5 in Endurance rating and even outlasts it when browsing the web or watching a video. The talk time isn't great, but we don't see it becoming an issue.
The Microsoft Lumia 950 XL has the highest battery capacity, but the standby power draw of the Snapdragon 810 chipset is too high. This only gets worse if you have the dual-SIM model with both slots occupied.
The Samsung Galaxy Note5 aced the talk time test and had a strong showing on the other two.
For filling up the battery, the Apple iPhone 6s Plus comes with a less powerful 5W charger, but it will make good use of a more powerful iPad charger if you have one around.
The Microsoft Lumia 950 XL is packaged with a faster 15W charger. The Samsung Galaxy Note5 has its own 15W charger though the standards differ (5V/3A for the Lumia, 9V/1.67A for the Galaxy). Both of them support wireless charging (omitted from the Lumia in some regions).
The Galaxy Note5 is the first with fast wireless charging, though – it's almost as fast as the wired charging (1h for a full charge with a cable, and 1h 20m – when on a wireless charger). Also, it supports two standards – Qi and PMA – while the Lumia supports only Qi.
Winner: Samsung Galaxy Note5. While the Endurance race against the iPhone may be called a draw, topping up the battery of the Note5 is just so much faster. Even wireless charging is faster than Apple's anemic charger.
Runner-up: Apple iPhone 6s Plus. It goes to show that you can achieve great battery life by using a combination of a custom chip and a custom OS even without a large battery.
Third place: Microsoft Lumia 950 XL. Heavy users may not feel much of a difference in battery life, but more sparing use won't tangibly increase the time between charges. The power wasted on standby adds up pretty quickly. Fortunately, it's only one among the three that has a removable battery so you could potentially carry a spare.
Loudspeaker
All three phones have just the one loudspeaker. That didn't stop the Microsoft Lumia 950 XL from achieving an Excellent score with great performance across the board and an exceptionally good one with a loud ringtone.
The Samsung Galaxy Note5 managed an Average rating in this test with a bright spot in the ringtone department, but for music or for use as a hands-free it's no stronger than the iPhone 6s Plus, which only scored a Below Average mark.
| | | | | |
| --- | --- | --- | --- | --- |
| Speakerphone test | Voice, dB | Pink noise/ Music, dB | Ringing phone, dB | Overall score |
| Apple iPhone 6s Plus | 65.8 | 65.1 | 64.6 | Below Average |
| Samsung Galaxy Note5 | 65.3 | 64.6 | 73.5 | Average |
| Microsoft Lumia 950 XL | 74.9 | 75.7 | 84.3 | Excellent |
Winner: Microsoft Lumia 950 XL. Even the weakest numbers from this speaker top the other two. It's so loud that we can almost forgive the lack of a second speaker.
Runner-up: Samsung Galaxy Note5. Just barely, though. If you look at the table, you'll notice mostly the same performance as the iPhone.
Third place: Apple iPhone 6s Plus. At least, with the Note5 you can pick a loud ringtone. Even a loud tune doesn't do much to help the iPhone 6s Plus's case.
Audio quality
When it comes to audio output quality, we saw three great performances in the first part of our audio test. The Galaxy Note5 and Lumia 950XL p[ractically aced all aspects, while the iPhone 6s Plus only slightly faltered in stereo crosstalk. The higher volume gives the Microsoft smartphone the win here while the other two being tied in that aspect lets the Samsung phablet grab the silver medal.
Plugging in a pair of headphones caused the most damage to the Microsoft Lumia 950XL output, equaling its volume with the other two and adding some distortion and what turned out to be the biggest stereo crosstalk. The iPhone 6s Plus was affected to a lesser extent while the Galaxy Note5 output remained virtually unchanged. With the Microsoft flagship sinking to the bottom in this important test, it's gold for Samsung and runner-up for Apple.
Here go the results so you can do your own comparisons.
| | | | | | | |
| --- | --- | --- | --- | --- | --- | --- |
| Test | Frequency response | Noise level | Dynamic range | THD | IMD + Noise | Stereo crosstalk |
| Apple iPhone 6s Plus | +0.05, -0.02 | -93.4 | 93.4 | 0.0018 | 0.0069 | -71.1 |
| Apple iPhone 6s Plus (headphones attached) | +0.15, -0.11 | -90.2 | 92.8 | 0.0031 | 0.139 | -59.9 |
| Nokia Lumia 950 XL | +0.01, -0.08 | -91.6 | 91.7 | 0.0035 | 0.012 | -89.3 |
| Nokia Lumia 950 XL (headphones attached) | +0.48, -0.07 | -90.4 | 91.5 | 0.011 | 0.293 | -55.6 |
| Samsung Galaxy Note5 | +0.04, -0.01 | -93.6 | 93.5 | 0.0024 | 0.0076 | -94.7 |
| Samsung Galaxy Note5 (headphones attached) | +0.02, -0.05 | -93.1 | 93.2 | 0.0023 | 0.030 | -84.1 |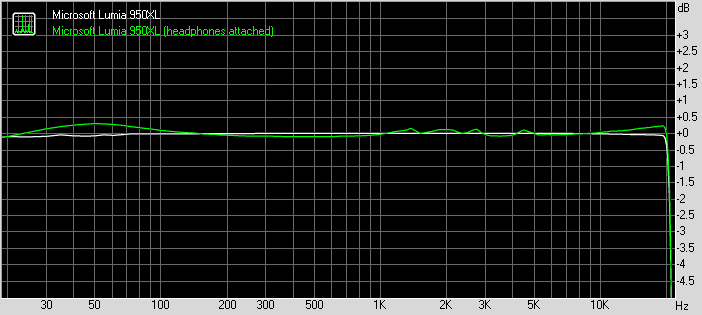 Microsoft Lumia 950 XL frequency response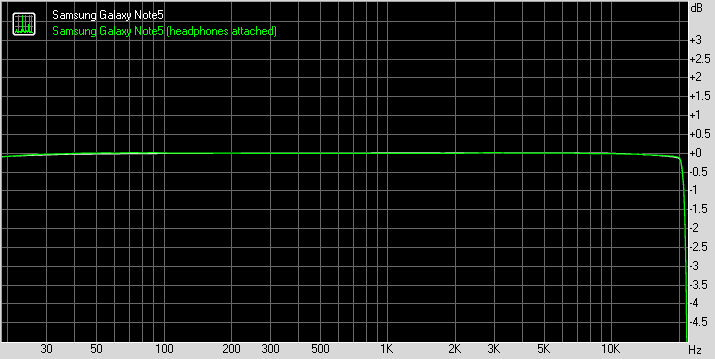 Samsung Galaxy Note5 frequency response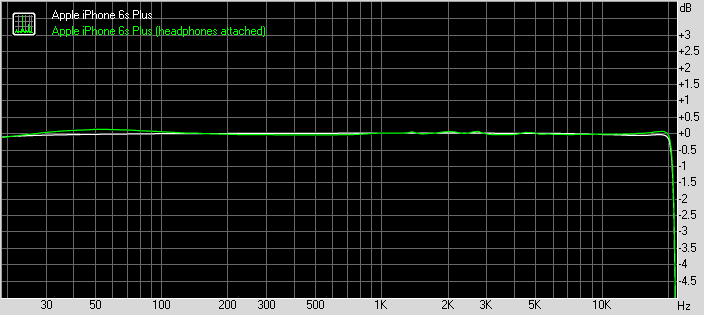 Apple iPhone 6s Plus frequency response
You can learn more about the tested parameters and the whole testing process here.
Winner: Samsung Galaxy Note5. Second best on account of its slightly lower volume in the first test and first on the more important headphones-in test. It was a tough battle but the Samsung phablet edged it out.
Runner-up: Apple iPhone 6s Plus. Third in this comparison, but still excellent with an external amplifier and second with headphones. We give it the nod over the Lumia 950XL here, but feel free to consider this reversed if you use your phone to power your car/home audio system more often than using it with headphones.
Third place: Microsoft Lumia 950XL. A flying start, but it couldn't handle headphones as well as the other two. Still an excellent performer overall, though.
Performance
Three phones, three software platforms. Comparing system performance surely is a challenge. The Android/iOS comparison is easy, but Windows' sparse app ecosystem makes this a rather tall task.
The Apple iPhone 6s Plus has an 'only' dual-core CPU and 'only' 2GB of RAM. Apple has designed both the hardware and software on the iPhone, so you can be sure the duo works in perfect unison.
The Microsoft Lumia 950 XL has 3GB of RAM. And Windows 10 Mobile is usually frugal on system resources, but we've got to remember that even in Continuum mode, there is not much multi-tasking going on.
The Samsung Galaxy Note5 has the most RAM – 4GB. But while Apple and Microsoft have built the software from the ground up, Samsung has built TouchWiz on top of Google's Android. As a result, there are a lot of services and processes running in the background and any extra RAM is duly utilized.
Basemark OS 2.0 is the primary cross-platform benchmark tool we would be using to compare the performance of the three. According to it, the iPhone 6s Plus has the lead for overall performance. The Galaxy Note5 falls between it and the Lumia 950 XL.
Basemark OS 2.0
Higher is better
Kraken 1.1 is the other shared benchmark, this one stresses the processor and the JavaScript engine. The Apple CPU may only have two cores, but they are little speed demons and Apple's custom JS engine makes short work of the test.
The Lumia 950 XL lags noticeably behind the Galaxy Note5, more than Snapdragon 810 should. We're willing to place the blame on the still new Microsoft Edge browser.
Kraken 1.1
Lower is better
For further proof that Apple's Twister cores easily surpass other mobile cores we turn to Geekbench 3, a CPU-focused benchmark. The Note5 and Lumia 950 XL use a mix of four Cortex-A57 and four A53. Together, the eight cores outpace the iPhone processor, but it's rare that an app can stress all eight.
Still, AnTuTu 5, which tests the whole system gives the win to the Note5.
GeekBench 3
Higher is better
AnTuTu 5
Higher is better
There's no Geekbench for Windows 10, nor full AnTuTu, but we know how Snapdragon 810 performs if it's running Android (the Nexus 6P was behind the Note5 in CPU performance, but ahead in overall speed).
While Apple doesn't (yet) have a custom GPU it uses the most powerful one in town. In raw performance it almost doubles what the Galaxy Note5 has and the difference can be even greater once games transition from OpenGL ES 3.0 to the newer 3.1 version. The lower native screen resolution gives games a boost too.
We saw the Nexus 6P (with the same chipset as the Lumia 950 XL) beat the Galaxy Note5 by a small margin, but far from enough to cover the distance to the iPhone 6s Plus performance.
GFX 3.0 Manhattan (1080p offscreen)
Higher is better
GFX 3.0 Manhattan (onscreen)
Higher is better
Basemark ES 3.1 / Metal
Higher is better
Winner: Apple iPhone 6s Plus. No argument here, ever when a few synthetic benchmarks show a slight advantage for the competition, the iPhone has a dominating lead.
Runner-up: Samsung Galaxy Note5. It's a hard call with incomplete info, but the couple of benchmarks that covered all three phones put the Note5 ahead.
Third place: Microsoft Lumia 950 XL. The GPU is slightly faster than what the Note5 has, but not enough to make a significant difference. It also feels the slowest of the three in day to day tasks due to higher-than-normal wait times when performing certain tasks such as browsing the Settings, for instance.
Camera features
The Microsoft Lumia 950 XL can trace its family roots to the Nokia 808 PureView, one of the most impressive cameras in history. It uses many of the same buzzwords too – a PureView sensor with a hybrid design (supporting both 4:3 and 16:9 photos with minimum cropping), ZEISS-certified lens, it has OIS and a bright f/1.9 aperture.
The camera comes with extensive manual controls with a convenient UI and can shoot RAW photos. Note that while shooting RAW limits the resolution of the stored JPGs to 8MP, the RAW photo is shot at the full 19MP (that's for 4:3 photos).
Rich capture slows down shot-to-shot time somewhat, but that's because it does a lot behind the scenes. It automatically triggers HDR when needed and in the dark it enables Dynamic Flash – a unique feature that lets you tune the strength of the flash after you have taken the photo. And the Lumia 950 X L has an impressive tri-LED flash to boot.
Lossless zoom is available at 8MP, it allows you to do 3x magnification without impacting the image quality.
The Live Images feature enables the camera to capture a short video along with photos. The video plays back automatically when you get to the particular photo in the Gallery app, but such a Live Image is pretty hard to share as you can only open it via the Windows 10 Photos app (Mobile, Desktop, or on Xbox).
The Apple iPhone 6s Plus camera is less impressive in specs – a 12MP sensor and not-so-bright f/2.2 aperture. Still, previous iPhones were some of the best shooters around, and they had a more limited setup. And the Plus has OIS (unlike the small 6s).
Live Photos captures a 3-second of video at 14fps whenever you snap a photo. You can easily play back the associated video just by touching the photo in the Photos app, but, again, sharing on anything outside the MacOS ecosystem is quite a challenge.
The Samsung Galaxy Note5 has a 16MP widescreen sensor with a f/1.9 aperture (matching the Lumia) and OIS. It has a single LED for flash, though, while the iPhone comes with two.
The Galaxy Note5 has manual controls and RAW capture (and the JPGs come out at full resolution). One of the camera's special powers is live broadcasting to YouTube. There's also selective focus (simulate shallow depth of field) and virtual shot (which lets you walk around an object as you shoot).
Photo quality
Last week the LG V10 proved its camera as one of the best, so we will include it in the camera comparisons today, even though LG's smartphone is not part of this comparison. Note that it's there just as a reference and will not take part in the scoring.
We'll start off with a field-of-view comparison as it has an impact on both the image quality and how you compose a shot. The Microsoft Lumia 950 XL was set to 4:3 mode (because it's the aspect that captures the highest resolution photos) and it's still very wide – almost as wide as the widescreen LG V10 and Samsung Galaxy Note5.
The V10 and the Galaxy Note5 both have the same field of view, it's the 4:3 Apple iPhone 6s Plus that is the narrowest, but not by a huge margin.
We'll put the Note5 and V10, which you should already be familiar with, on the left and the new iPhone 6s Plus and Lumia 950 XL on the right. The iPhone shows very good dynamic range while the Lumia lost some detail in the shadows. Both South Korean phones overexposed the brightest sunlit areas.
Color rendering has some flaws. The Apple phablet lacks contrast in the red channel, making things look flat while the Microsoft camera showed a very noticeable yellow tint.
The iPhone 6s Plus is behind on resolution but handles it very well. The noise is higher than in Note5 and Lumia photos. The LG V10 has a more noisy output than those. Resolved detail is close to what the Lumia achieves (despite the resolution difference, helped a bit by the narrowed FoV). The approach to image processing is laid-back – there is no big contrast boost, strong noise reduction or much sharpening. This makes for a comparably softer output, but that's easily fixable if it gets in the way.
The Lumia 950 XL enjoys a similarly laid-back image processing, but it pushes the contrast setting a bit too hard and the colors seem to be oversaturated. This (along with the yellow tint) makes the photos appear like they've been processed by a trendy filter.
Winner: Samsung Galaxy Note5. Photos look noise-free and fairly rich in detail, colors are accurate. The dynamic range limits detail in the highlights and noise reduction strips away some good detail.
Runner-up: Microsoft Lumia 950 XL. Image processing is less refined than that of the Galaxy, but its high resolution gives it a running start. Images can look like they went through an Instagram filter, though.
Third place: Apple iPhone 6s Plus. Good processing can't hide the resolution disadvantage. Very good dynamic range and great white balance but the iPhone 6s family are no longer an image quality benchmark.
Selfies
With iPhone 6s Plus Apple abandoned the 720p selfie camera that previous generations used and put in a 5MP/1080p shooter, which can also do slow motion – 120fps at 720p. So, all four phones advertise 5MP cameras, though the LG V10 has two of them (one 80° and one 120°). For resolution the Galaxy Note5 has a slight advantage with its 1440p mode (i.e. QHD), it even boasts f/1.9 aperture.
The Microsoft Lumia 950 XL just can't help itself and pumps up the contrast and saturation again, but it produces some of the most eye-pleasing selfies of the bunch.
The Apple iPhone 6s Plus camera had much more realistic colors and managed to keep more detail in the shot.
The LG V10 has a slight edge in sharpness over the iPhone, but colors are quite pale and undersaturated.
The Galaxy Note5 loses a lot of detail to noise reduction (just like the main camera), so it left us disappointed.
Winner: Microsoft Lumia 950 XL. The colors may be slightly off, but these are hands-down the most eye-pleasing selfies on this side of the 8MP barrier.
Runner-up: Apple iPhone 6s Plus. It's the natural colors and processing that doesn't eliminate fine detail that secures the iPhone a close second place.
Third place: Samsung Galaxy Note5. The camera is so afraid of noise it smooths out even actual detail on the skin. The images remain fairly sharp, but the most important part of it looks so smooth that it as if it's been arificially enhanced.